Reverse circulation drilling or also called reverse air, creates small rock fragments (chips) instead of a solid witness (core). Unlike diamond drilling, it is much faster since it drills with air and not with water. This type of drilling uses much larger equipment, including a large capacity air compressor. Next, learn about the equipment used in reverse circulation drilling.
Schramm T685WS
This equipment is chosen in the field of drilling for mining exploration applications, before oil and gas wells and deep water wells. High resistance components and optional accessories make this equipment capable of operating in the most varied climatic and geographical conditions.
Drilling capacity up to 450 meters.
Diameters from 3.5" to 26".
Hydraulic mud pumps.
Applications:
Drilling of exploratory wells.
Drilling of water wells.
Drilling of monitoring wells.
Drilling of production wells (up to 7 7/8).
Drilling of drainage wells.
Geotechnical drilling and installation of piezometers.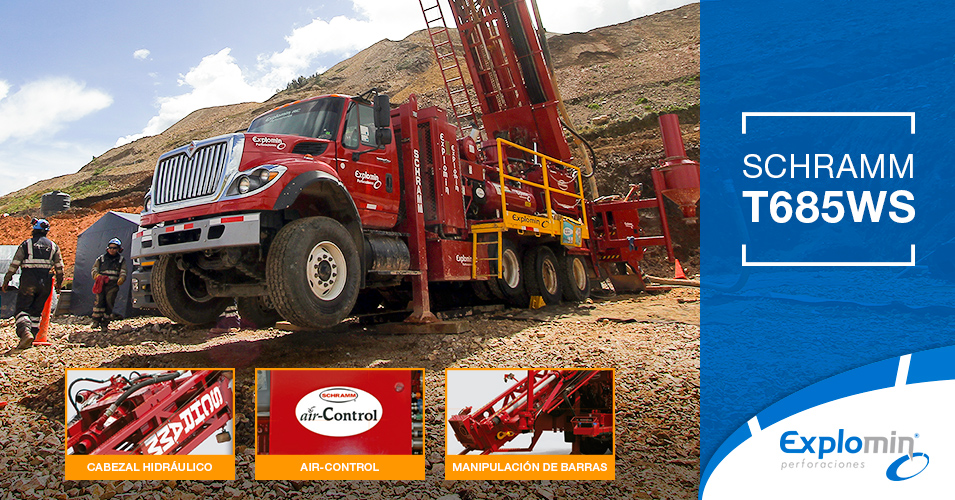 Ficha técnica
MOTOR ON PLATFORM
MTU V-2000 TA, V-12
760 bhp (567 kw) @1800 rpm
2 oil tanks of 415 liters (110 gallons) each
COMPRESSOR
Variable volume two stages, hydraulic rotary, screw.
Select air: 1,150 cfm @ 500 psi or 1,1350 cfm @ 350 psi
(32.6 m³/min @ 35.5 bar or 38 m³/min @ 24.1 bar)
Mechanical Clutch
Schramm patented "Air Control System"
Learn more about the technical characteristics of the Schramm T685WS here https://bit.ly/2Mn5nqO
Schramm T130XD
It is a heavy duty, trailer mounted, heavy crane drill rig. The T130XD makes use of the latest concepts in mast design and technology.
The telescopic structure allows a wide movement of the head and working height.
Equipped with "Telemast", patented Schramm Telescopic Tower for easy transport and fast installation.
Lifting capacity of 130,000 lbs. (578 kN) and Range III Pipeline handling.
Precise hydraulic weight control on the bit.
Onboard compressor selectable at 1,150scfm @ 500psi or 1,350scfm @350psi (32.6m3/min @ 35.5bar or 38m3/min @24.1bar).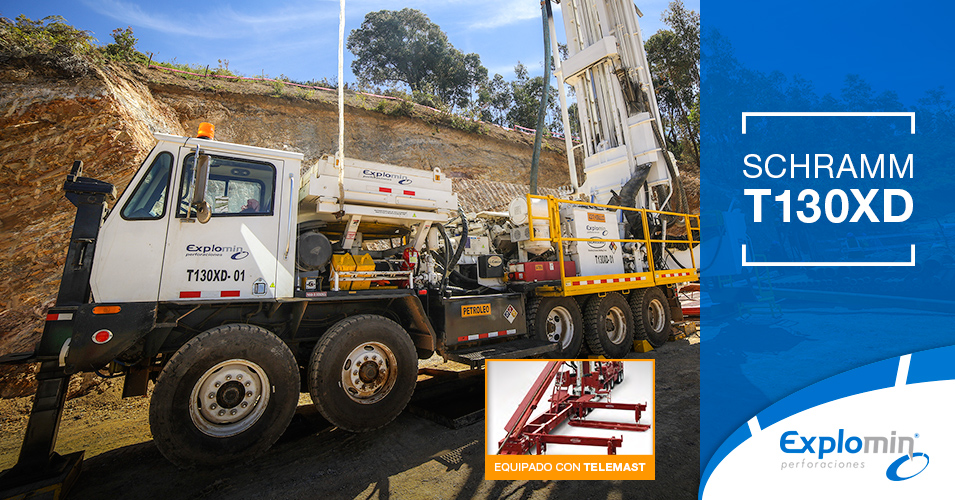 Learn more about the technical characteristics of the Schramm T130XD here: https://bit.ly/2MlXNwv
Both the Schramm T685WS and the Schramm T130XD are used in reverse circulation drilling as part of the service offered by Explomin >, thus guaranteeing effective results.